National Aquatics Center
It was one of the main venues of Beijing 2008 Olympic Games.
Project Location:
Beijing Olympic Park
Building Storey:
4 stories aboveground and 2 stories underground.
Seating Amount:
17,000 seats during Beijing 2008 Olympic Games, and 6,000 seats afterwards
Designed/completed:
2003/2008
Product Category:
Sports Architecture
Specialty Involved:
Planning, architecture, structure, M&E, budget estimate, landscape, interior and sports technology
During Beijing 2008 Olympic Games, National Aquatics Center "Water Cube "was used to hold swimming, diving, synchronized swimming and other events. It was the only landmark Olympic venue built, as mandated by Beijing Municipal Party Committee and Municipal Government, with the donations made by compatriots from Hong Kong, Macao and Taiwan and overseas compatriots in the amount of RMB 850 million.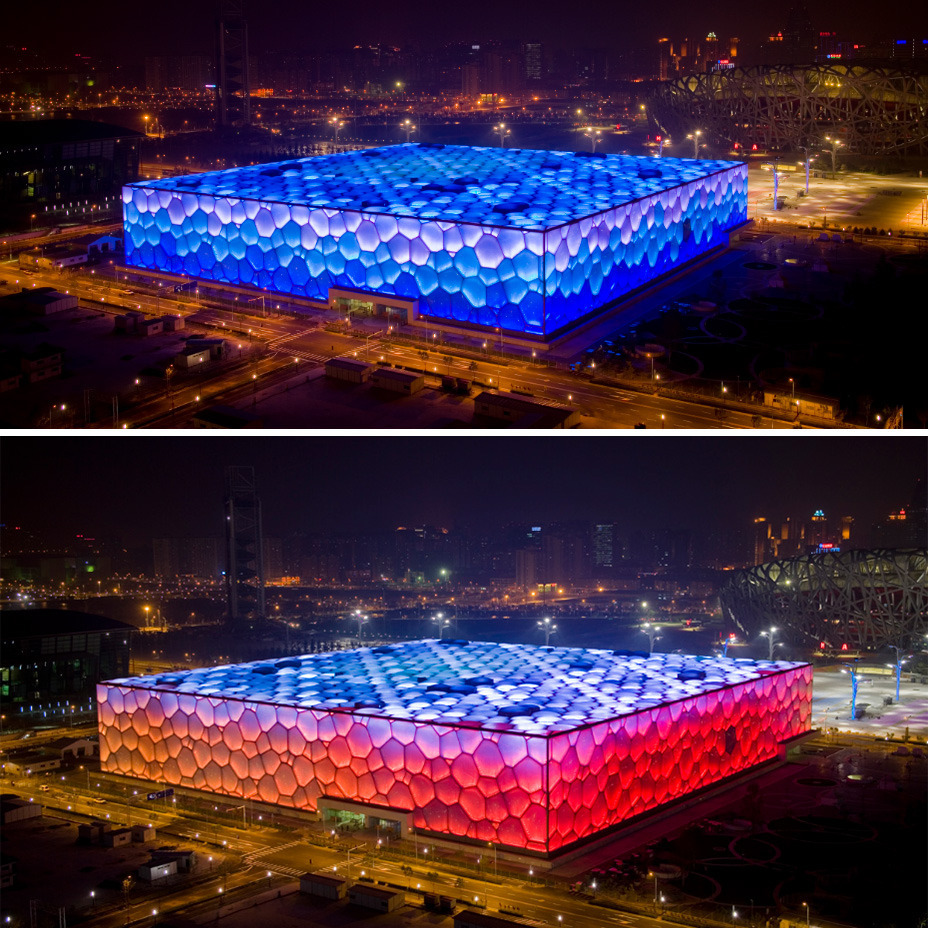 Lighting design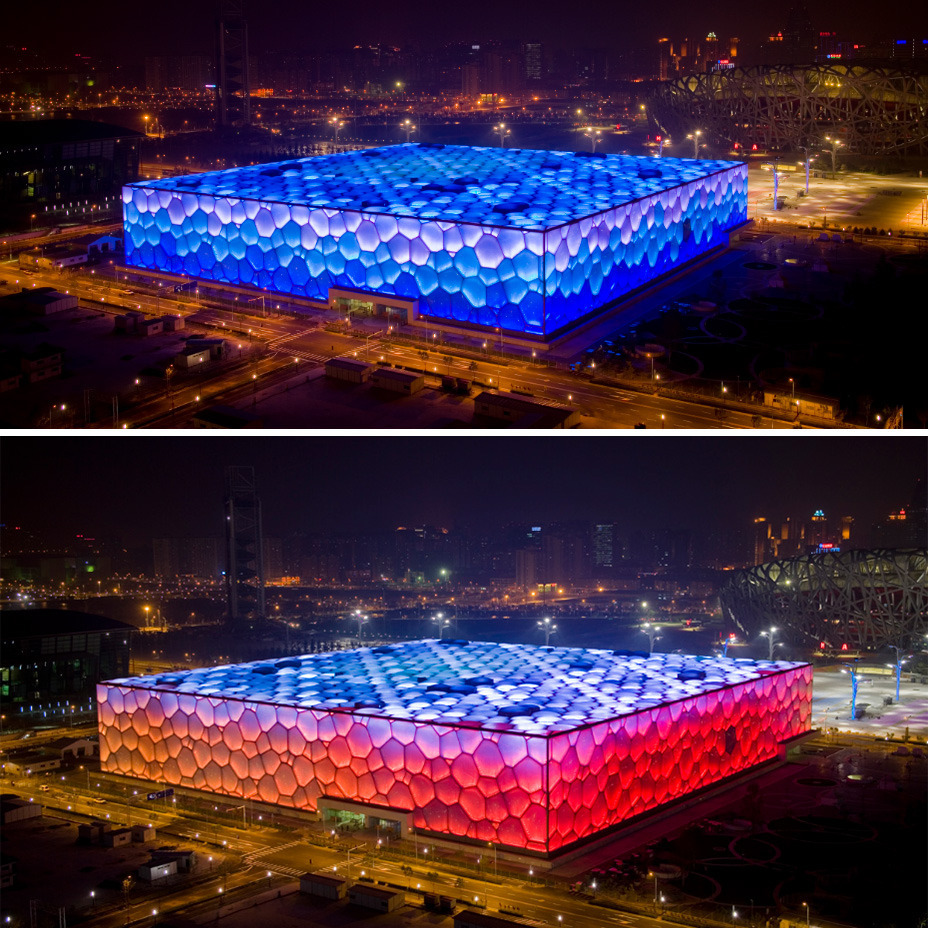 Lighting design:
• Two scene modes: basic mode themed by water, and special mode supporting celebrating ceremonies
• Selection of colorful LED light source, characterized by long service life, low volume and high processing flexibility
• Installation of lamps and lanterns on the steel structural frame in the cavity, projecting on the water cushions and uniformly lighting building surface
• Unprecedented difficulties in the project, having no precedent go by and having to solve lighting technology problems based on scientific researches and experiments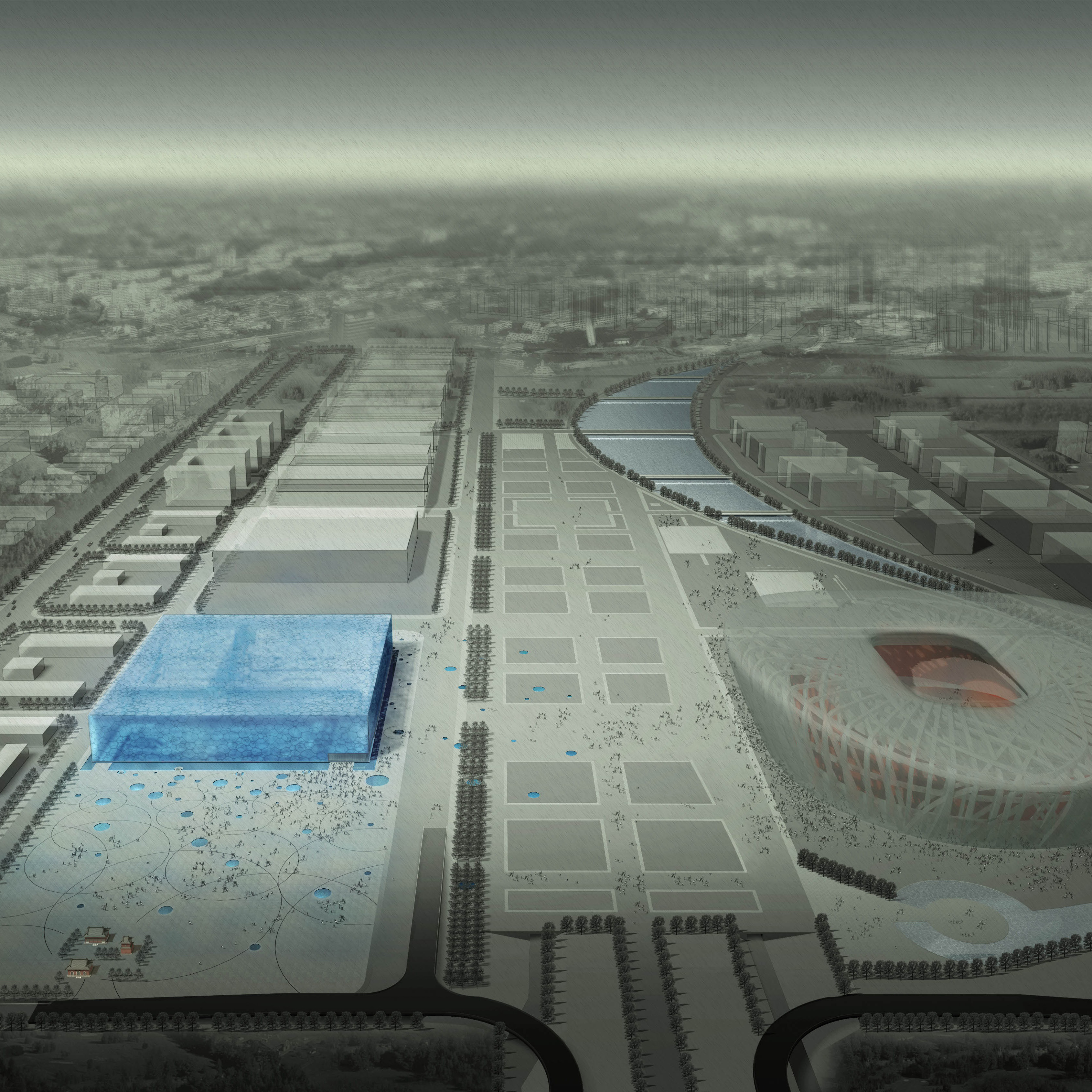 Planning and design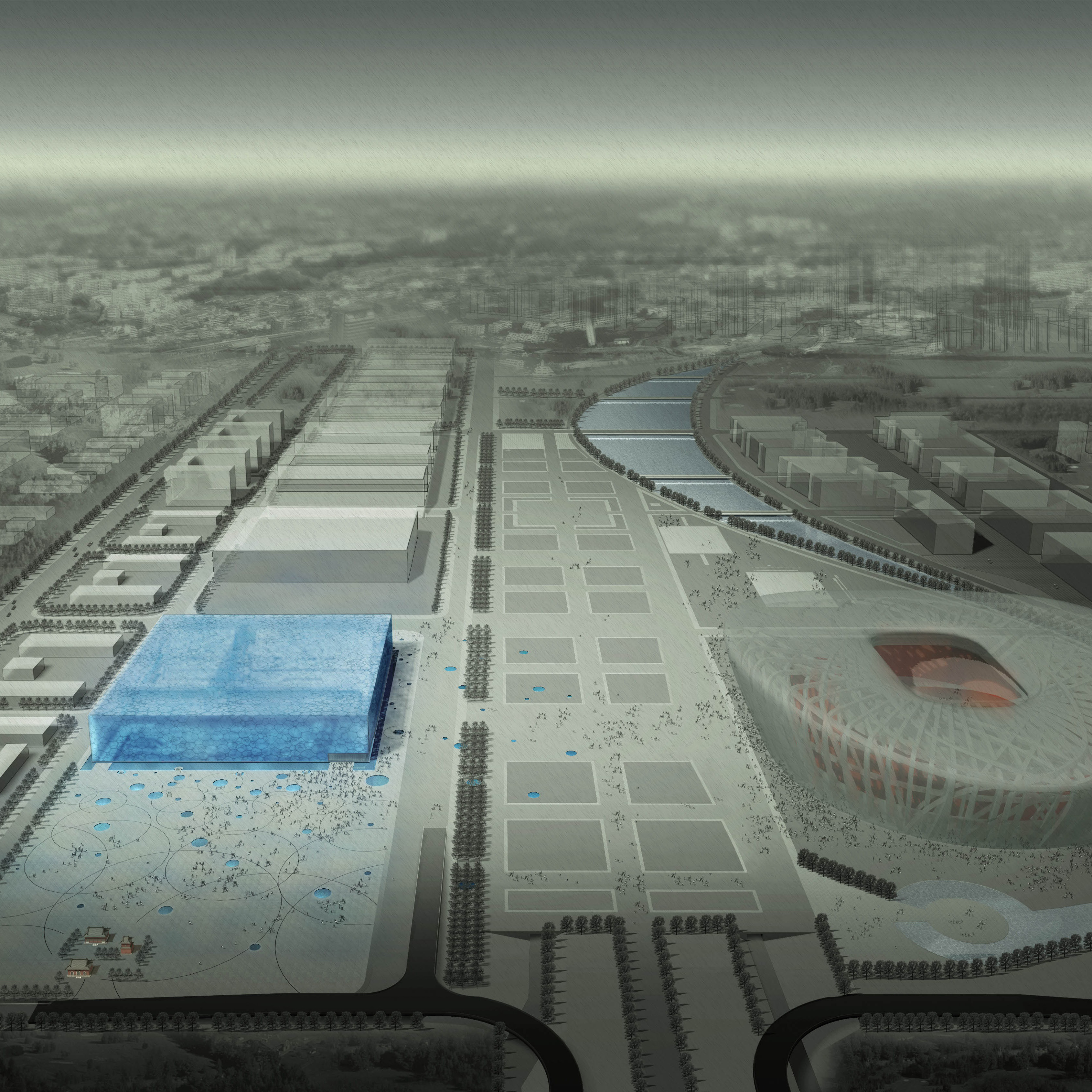 Planning and design:
• Embodiment of profound cultural connotations and highlighting of modern look at the core of the capital's northern central axis
• Manifestation of the intention of "round heaven and square earth", and interpretation of traditional spirit with innovative technology
•A cube constituted by the patterns of blue bubbles, being restrained and modest and merging with the National Stadium "Bird's Nest"
• Creating an open and pleasant public space, and displaying the open and inclusive mentality of a new economic power to the Chinese people and peoples all over the world


Operational planning

Operational planning:
• Adequate operational planning at the beginning of project approval
•Full consideration of the temporal pattern of the venue and its nature as a complex integrated with sports industry and commerce in the architectural conceptual scheme

Design concept
Design concept:
•Integration of the gentle beauty of "water" in Chinese traditional culture into the modern innovations of architectural forms, materials and technology, following the saying "'Water benefits everything without evoking conflicts or resistance."
•Mutual coordination between the tranquility, harmony and grace of poems and the excitement, force, masculinity and passion of "Bird's Nest"
•Precise satisfaction of the rigorous functional requirements of the Organizing Committee of Olympic Games (OCOG), providing the "fastest" swimming pools in the history
•Full embodiment of the expectations of the government and the state for the Olympic Games regarding modern city image and innovative & open spirit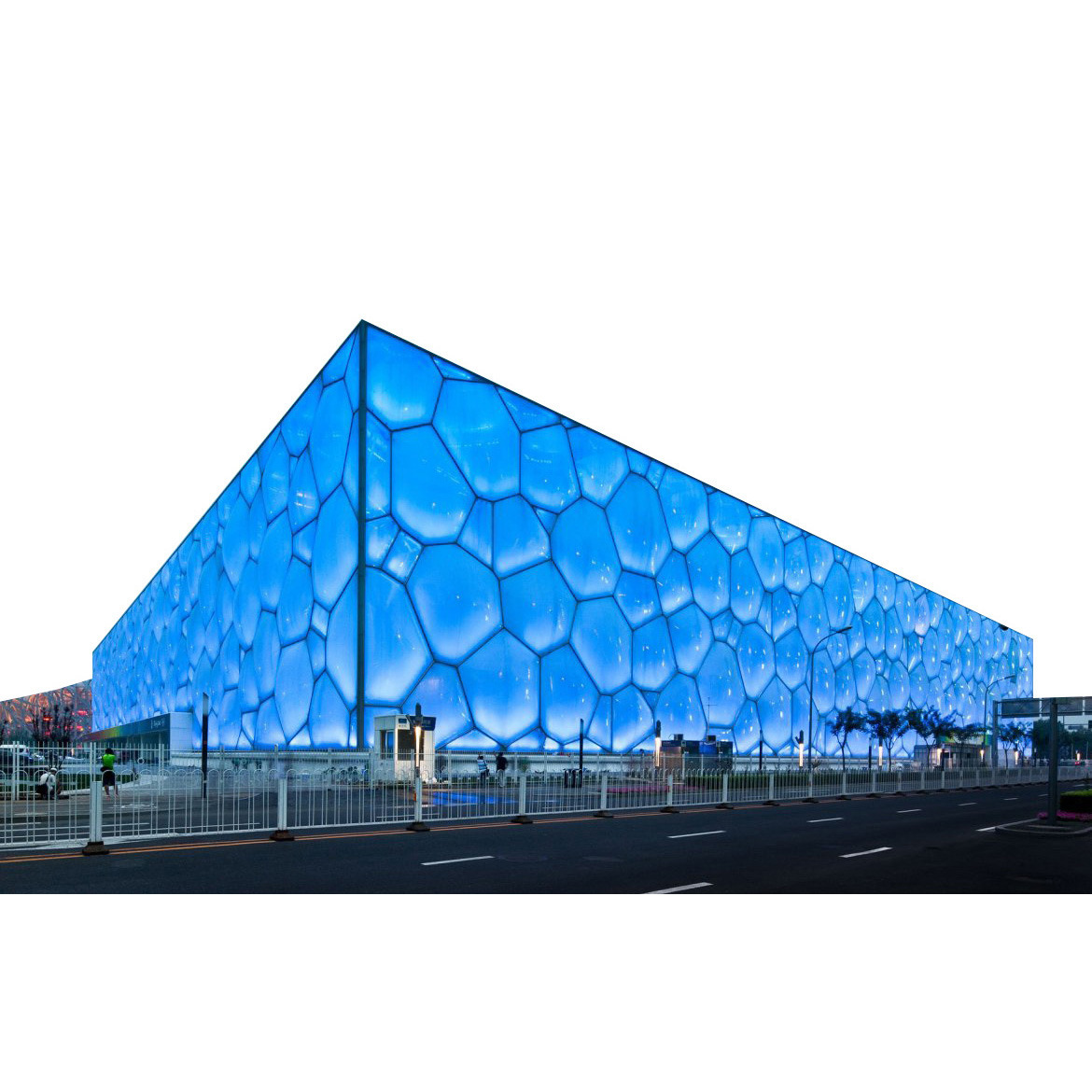 Architectural design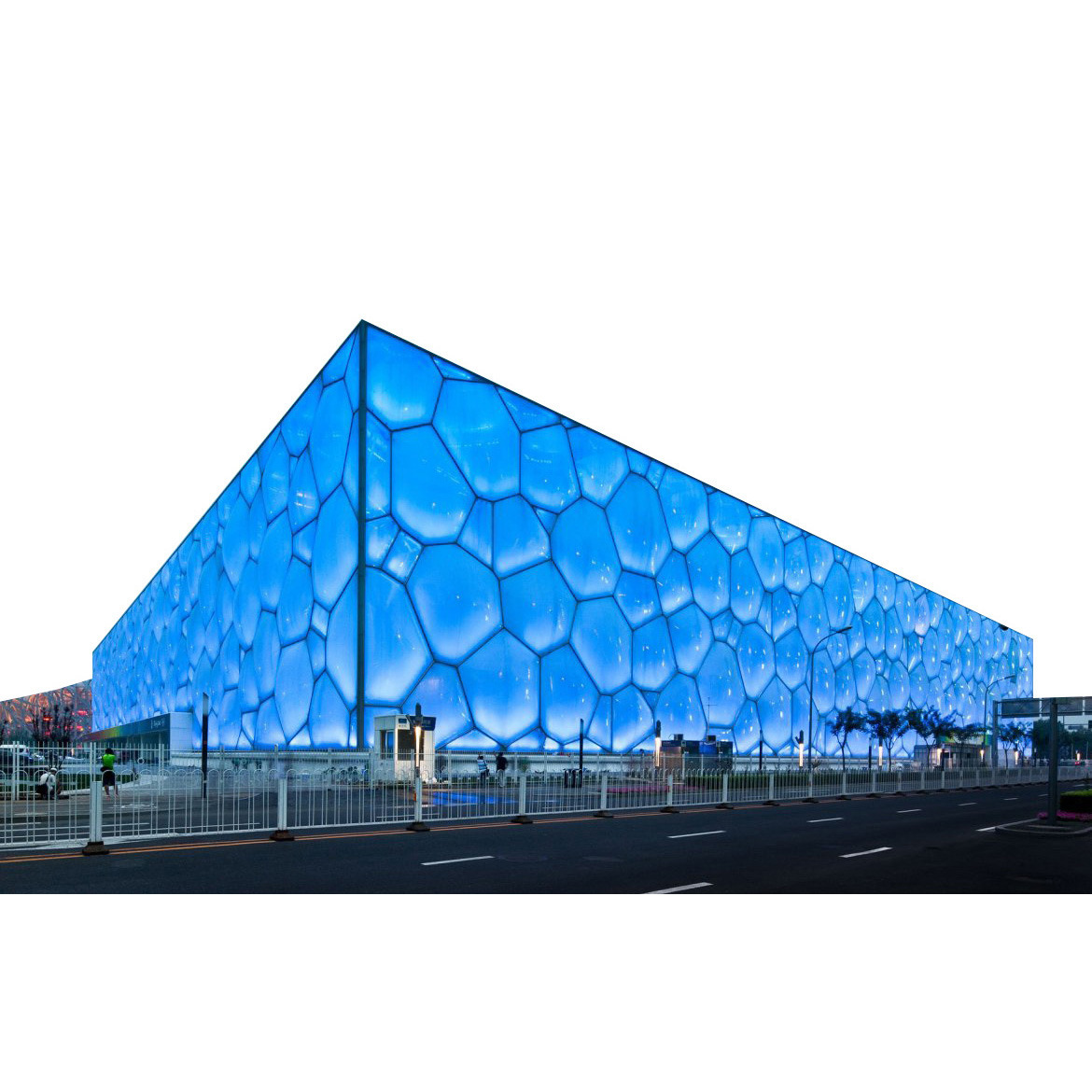 Architectural design:
•Architectural spatial composition by water molecule structures, and adoption of ETFE membrane material as outer envelope structure to highlight the "inspiration" of bubbles
•Introduction of a crystal architectural form to perfectly embody the concept of "water"
•"Water Cube" design technology, not only satisfying the demands of the Olympic Games but also meeting the conditions of successful operations afterwards
•"Water Cube" Waterpark, providing the largest indoor aquatic theme park in Asia and creating objective economic values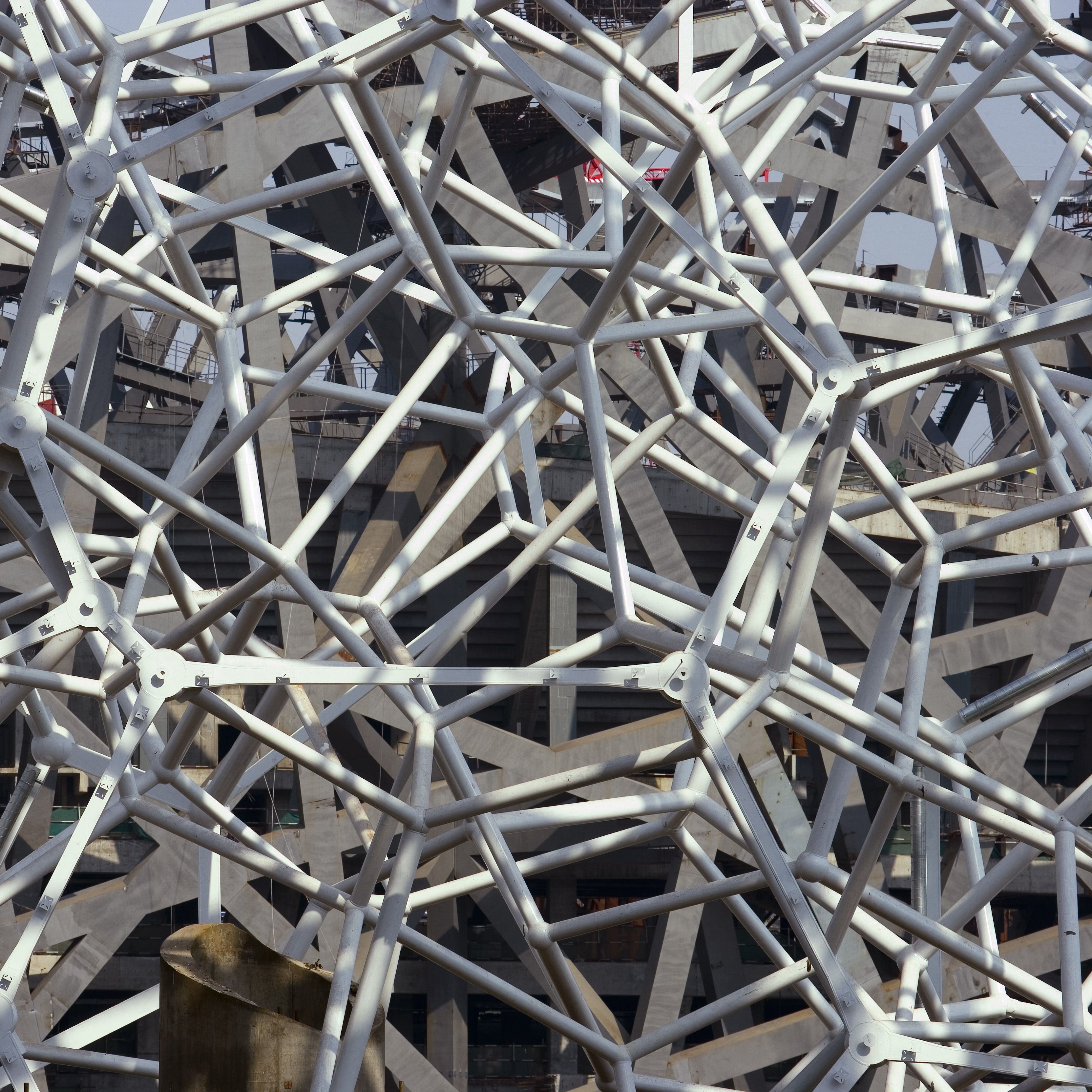 Structural design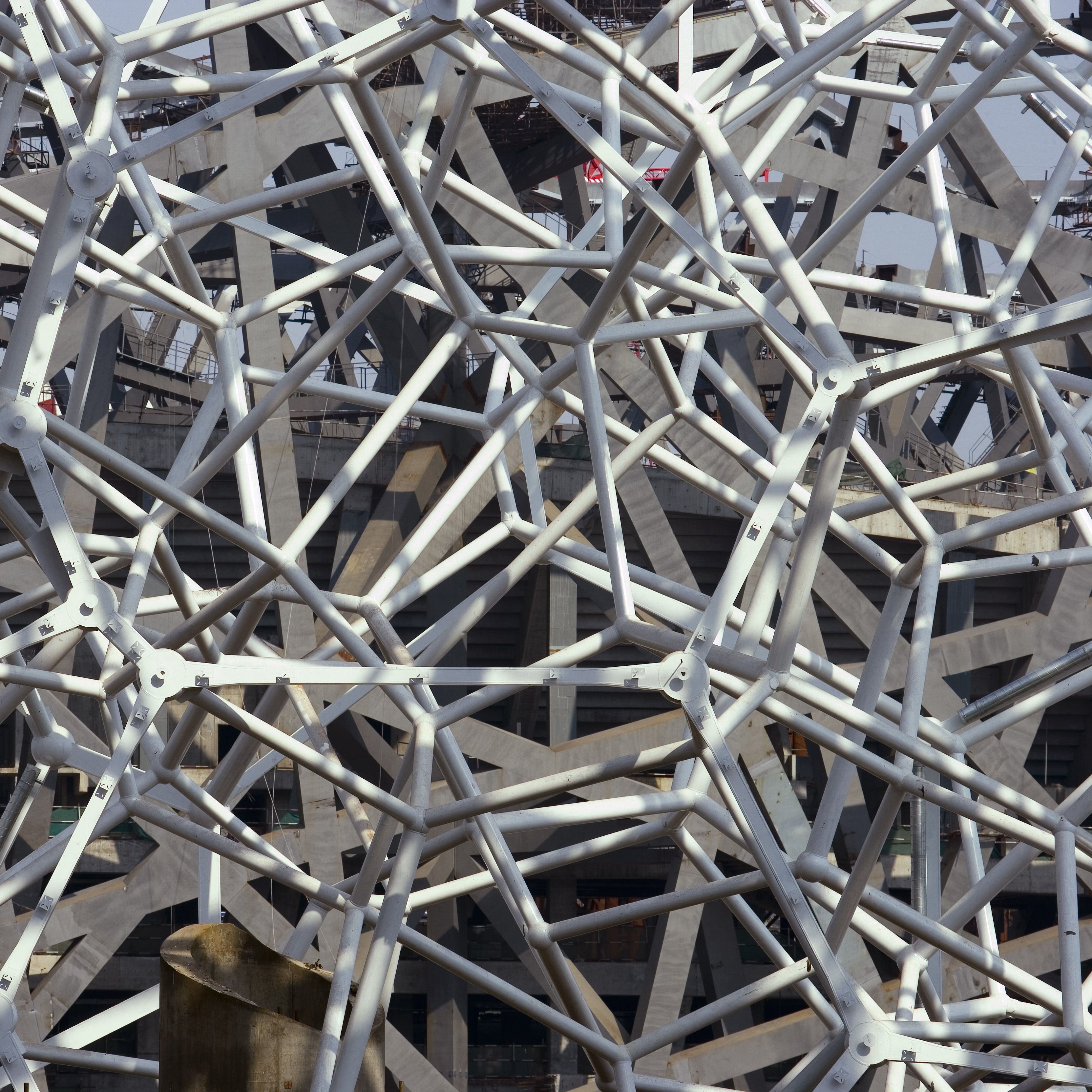 Structural design:
• Adoption of the water molecule structures of the Weaire-Phelan model to realize efficient micro-spatial forms in a building
•Seemingly complex appearance and actually highly repetitive structural organization, reducing the types of structural members and intersections and making convenience for building
•Integration of structure, surface and outer envelope system, achieving the high unity of safety, economical efficiency and beauty
•Introduction of structural innovations to create rich visual impacts, drive construction technology improvement and embrace the challenges of complex building construction


M&E design

M&E design:
•Variable shading coefficient-based double-layer cavity ventilation technology and refrigerating machine-based condensing heat recovery technology, saving power by the rate of 800,000kWh/a
•Reduction of operational power consumption by a rate of about 895.63MWh/a, achieving an overall energy saving rate of 9.29% in comparison to the reference building
•Combination of permanent power source with temporary power source to guarantee high-level power consumption during events and save both machine room area and operating cost
•1,000m3 rainwater reservoir and 76% of rainwater reusable, reducing the pressure of flood control and making full use of rainwater resource
•Distributed terminal direct drinking water facilities, completely eradicating secondary pollution of pipe network and avoiding wastage of water resource, and providing 100% clean water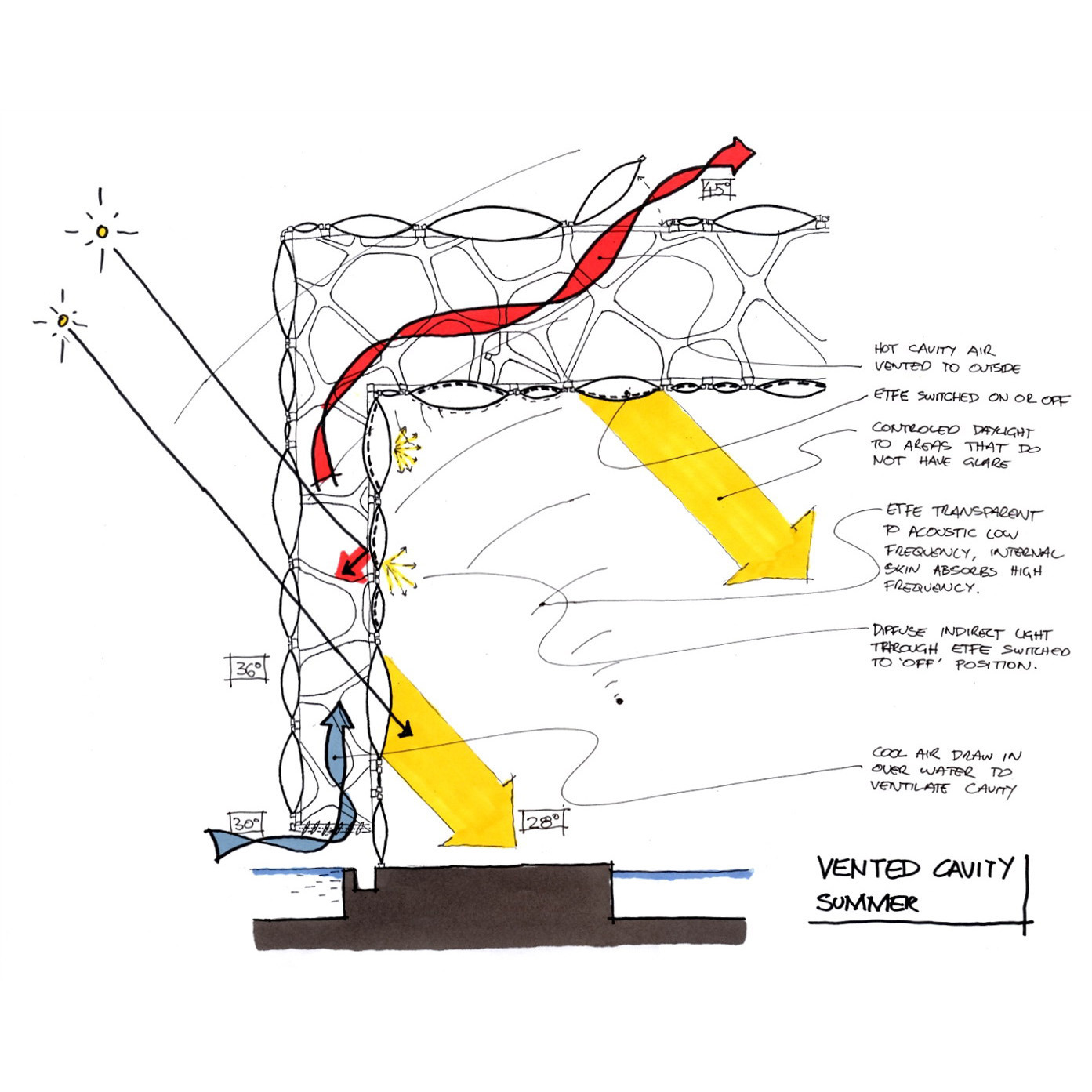 Green building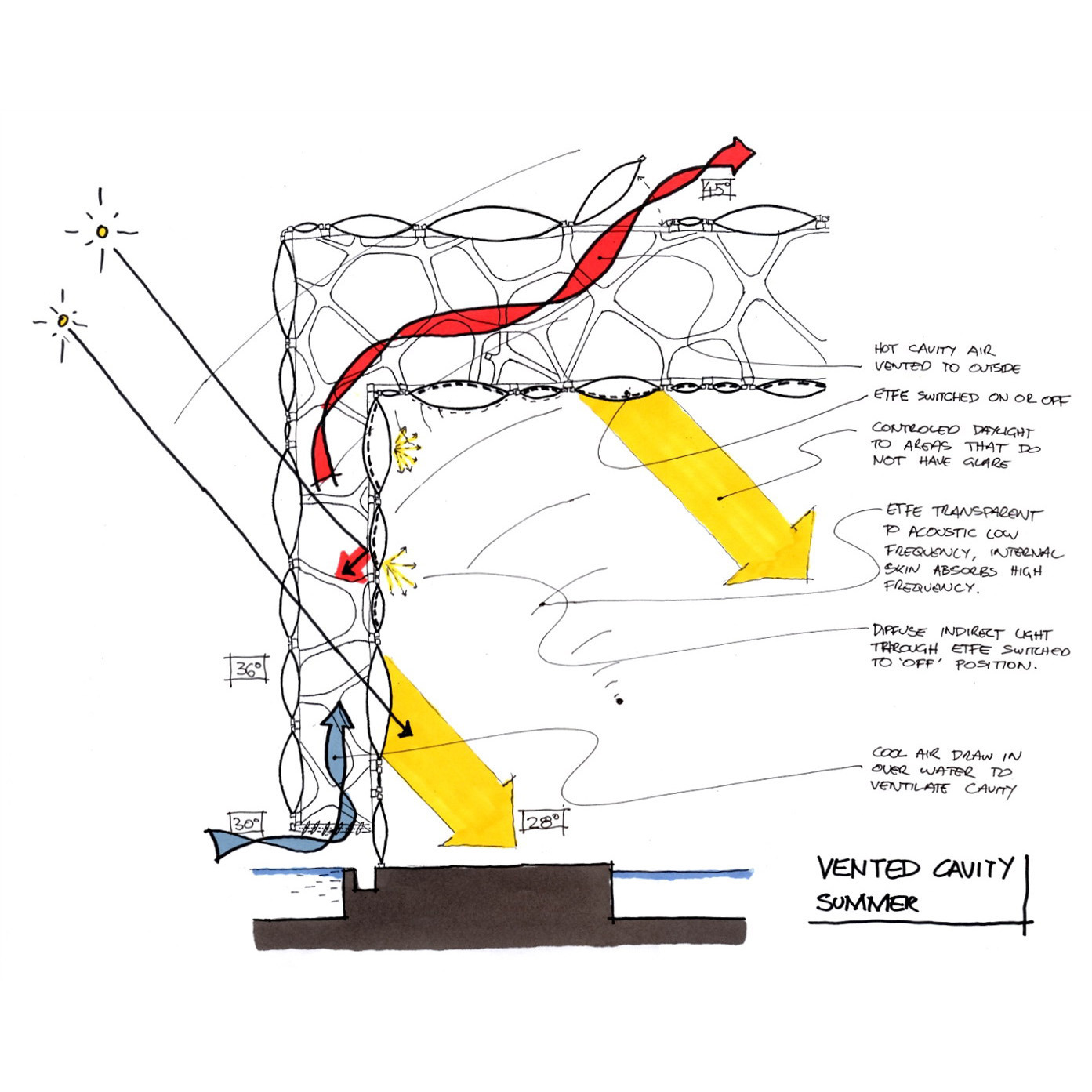 Green building:
•Compact building space and double-layer ETFE cushion envelope structure, supported by variable shading system to realize natural lighting
•Adoption of solar radiation and thermal storage in the winter to reduce energy consumption by heating, and adoption of inter-cushion cavity heat rejection in the summer to reduce energy consumption by air conditioners
•Adoption of solar photovoltaic system and power-saving lighting system to further reduce the emission of greenhouse gases
•Lightweight membrane structure, characterized by long service life, high self-cleaning performance and recovery convenience, exerting only an insignificant impact on the environment in its full life circle
•Use of recycled water for toilet-flushing, greening and road sprinkling, and adoption of water-saving sanitary and bathroom equipment to increase the utilization efficiency of water resource


Technical economy

Technical economy:
• Adoption of quota design to control the construction cost
• Interaction with the designer to select materials, support inquiry and collect material information
• Control of the construction cost before construction to prepare the working drawing budget
• Control of the construction cost during construction to prepare design alterations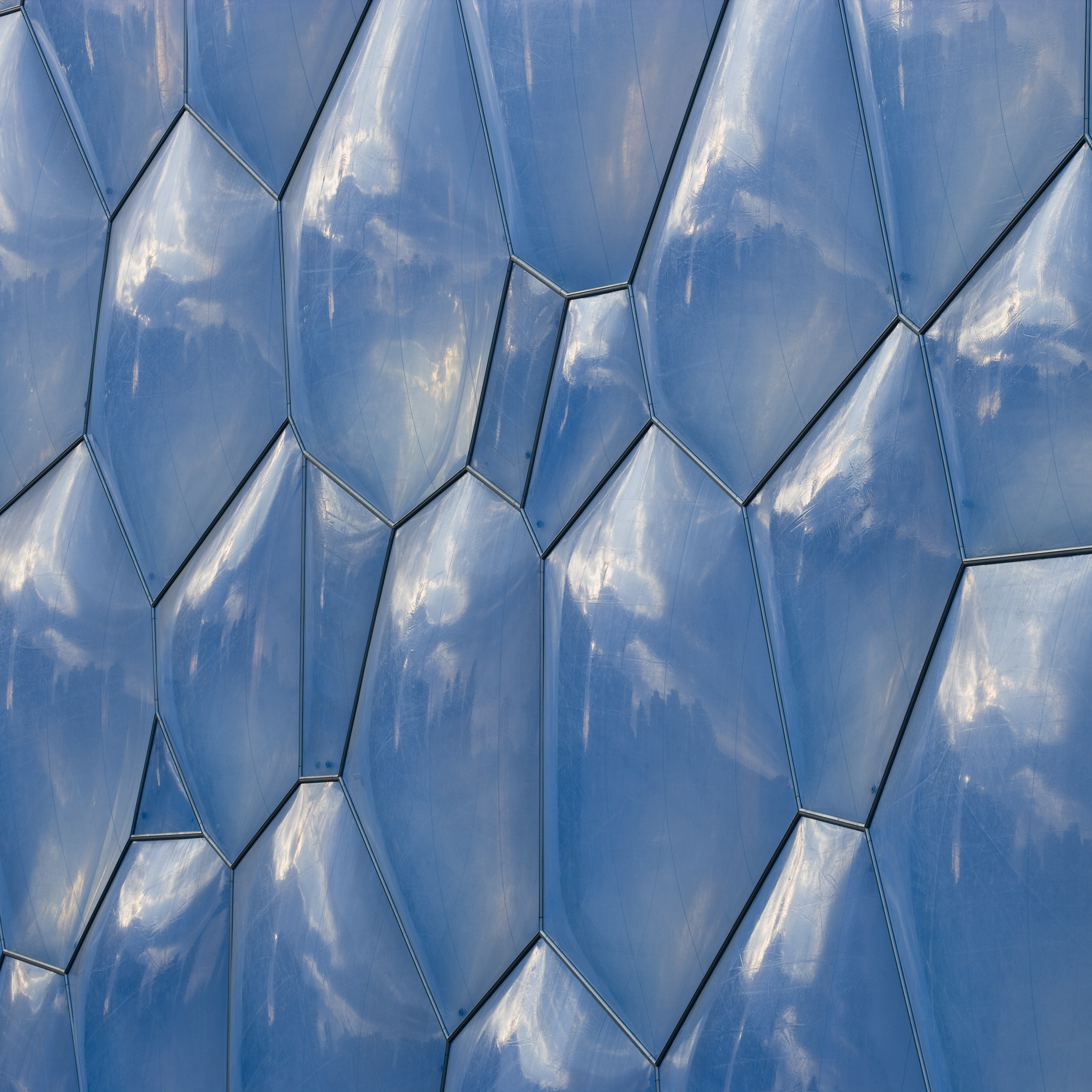 Curtain wall design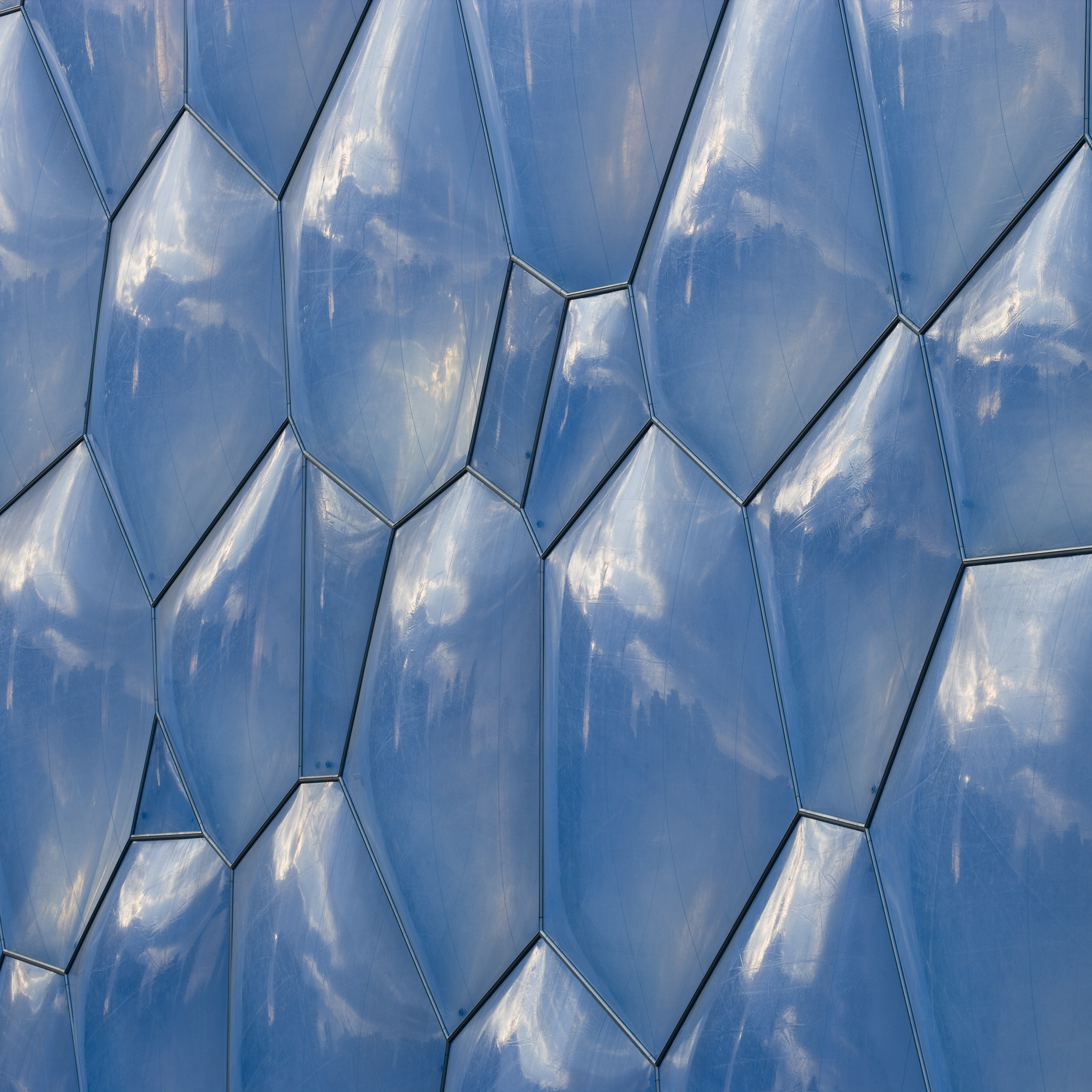 Curtain wall design:
• Currently the largest and most technically sophisticated membrane structure large-sized public building in the world
• Surface gas-filled membrane structure, covering 100,000m2, and adoption of more than 3,000 curtain wall cushions to create a crystal appearance
• Lightweight ETFE material, characterized by high thermal insulation and plasticity, high light transmission, high rainproof performance and embodying the gentle beauty of water
• Revolutionary outer envelope material, showing a dreamlike night scenery and expressing rich emotions

Interior design
Interior design:
• Theme of waterdrops, continued both inside and outside
• Adoption of bubble-patterned envelope structure to create the narrative and diversified colors of internal space, and use of lighting to add dream colors
• Full emphasis of the water theme, with the intention of creating natural, diversified and harmonious beauty
• Bringing the enjoyment of happiness, freedom and natural beauty to tourists

Landscape design
Landscape design:
• Use of waterdrops and ripples to create circles and rings, randomly presented in waterscape and on lawn and pathways in different sizes
• Combination of fountain and waterwall, paying due consideration to both safety and operational maintenance
• Effective optimization of outdoor landscape elements to add colors on the whole

● Gold prize of the 20thInternational Association for Sports and Leisure Facilities (IAKS) 2009
● Excellence prize of the 5thASC Grand Architectural Creation Award 2008
● Third prize for architectural intelligence of National Excellent Engineering Survey and Design Industry Award 2008
● First prize of the Award of China State Construction Engineering Corp. Ltd. for Excellent Conceptual Design (2003-2004)
● Technology Innovation Award of Beijing Olympic Engineering Planning, Survey and Design & Surveying and Mapping Industry 2008
● Gold prize of National Excellent Engineering Survey and Design Award 2008
● Jorn Utzon Award for International Architecture of Australian Institute of Architects (AIA) 2008
● Gold prize of the 4th China Weihai International Grand Building Design Prix 2007
● Atmosphere-themed Special Prize of Venice Biennale 2004
● First prize of Excellent Design Award for HVAC Engineering of the Third Architectural Society of China (ASC) 2010
● Grand Award of Chinese Architectural Association in Celebration of 60th Anniversary of People's Republic of China 2009
● First prize of National Excellent Engineering Survey and Design Industry Award (Building Structure Based on Sino-foreign Cooperation) 2009
● Second prize of Beijing Science and Technology Progress Award 2008
● Grand gold prize of Century Excellent Architectural Work Award 2006
● First prize of National Science and Technology Progress Award of the State Council 2011
● First prize of 7th Excellent Architectural Structure Design Award of the Architectural Society of China 2009 (ASC)
● First prize for architectural structure of National Excellent Engineering Survey and Design Industry Award 2009
● Offshore Architectural Design Award of Hong Kong "Quality Architecture Award" 2008
● Comprehensive Achievement Award of Beijing Olympic Engineering Planning, Survey and Design & Surveying and Mapping Industry 2008
● First prize of the Award of China State Construction Engineering Corp. Ltd. for Excellent Survey and Design (2007-2008)
● Gold prize for fashion design of 2th China International Architectural Biennial 2006
● 8th China Civil Engineering Jeme Tien Yow Award 2008
● Structural Awards by IStructE 2008
● China Interior Design Award of China National Interior Decoration Association (CIDA) 2012
● First prize of the 14th Excellent Engineering Design Award of Beijing Municipality 2009
● Beijing Top 10 Contemporary Architectures (2001-2008)
● Gold prize of Excellent Architectural Electrical Design of Architectural Society of China (ASC) 2013
● Award of China State Construction Engineering Corp. Ltd. for Excellent Survey & Design (2009)