Cultural and Leisure Tourism
A Rising Industry
Tourism as a pillar industry as defined in central government's current Five-Year Plan. At least 27 provinces and cities across China have signed up making tourism a pillar industry. The tourism industry in 2020 is expected to reach 5% of the GDP.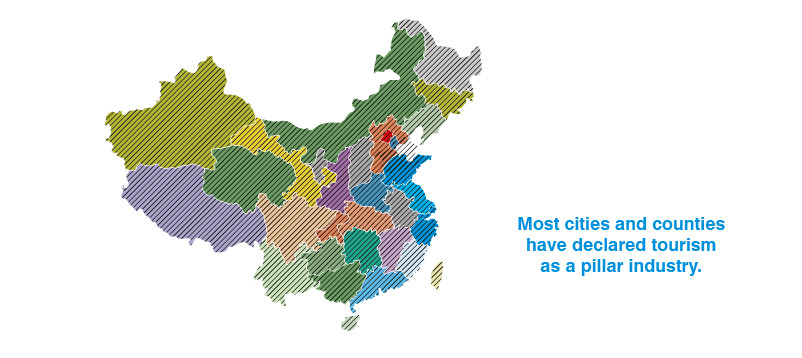 Explosive Growth
The number of domestic tourists increased 18-fold from about 200 million in 1984 to more than 3.6 billion in 2014. The number of foreign tourists rose from 1.8 million in 1978 to 128 million in 2014, a 6-fold increase. An average Chinese will make five trips by 2020. The expenditure per Chinese tourist will reach the average of moderately developed countries.

Consumption Transformation

The post-80's generation has become the largest contributor to tourism spending. In pursuit of better life, they view traveling as a way to experience the world. Traditional sightseeing packages can no longer meet their needs. Self-guided tours have become dominant.
Capital Influxes
In 2020 China will become the world's largest tourist destination. The total tourism investment announced by local governments is a staggering six thousand billion RMB in the same period.
Multi-Industry Integration
To facilitate tourism development the government will make sure market is fully open to social capital. Mergers and restructuring will ensure large scale integration.